MAD Fan of the Month Cover
These are my three kids, and future MAD readers!
From left to right we have Landon, Dade (wearing the Alfred Mask!) and Hannah (who clearly approves of having Alfred E. Neuman as her little brother!)
So you want to know a little about me, huh?
Well, my name is Jason, I'm 40something of age, physically of course, I mean let's get real I'm still collecting humor mag's right? I am currently back working in restaurants, after getting out of the real estate business. Two of the first issues that I can remember seeing in my house on the coffee table when I was growing up was #263 June of 86' and #274 Oct. of 87', so I would say I've been collecting MAD for around say 35 years now and counting. My dad, Jeff, was also a collector when he was younger he had a solid run down to #38 March of 58'. He wasn't able to pass those issues along of course, I had to painstakingly re-collect all of those issues because of you know the old story...boy has hobby, boy meets girl, girl puts the garbage where it belongs! I remember saving my money from my paper route and riding my bike down to the comic book store and paying $20 for an issue where thanks to computers and of course eBay I can now find those same issues, 35 years later, in better condition for a quarter of the price?
This is the fake cover I made and submitted to MADmag to try and win my oldest son the "MAD Fan of the Month" free three year subscription. We are still waiting for a response?
Original Portrait of
Alfred E. Neuman by
DC & Marvel Artist
Darick Robertson!
This Is An Original Piece of $#!% (Art!) Drawn by Legendary Artist Darick Robertson! While Enjoying Dinner at Fume' Bistro in Napa, CA!
Check Out Darick's Other Work On His Site At: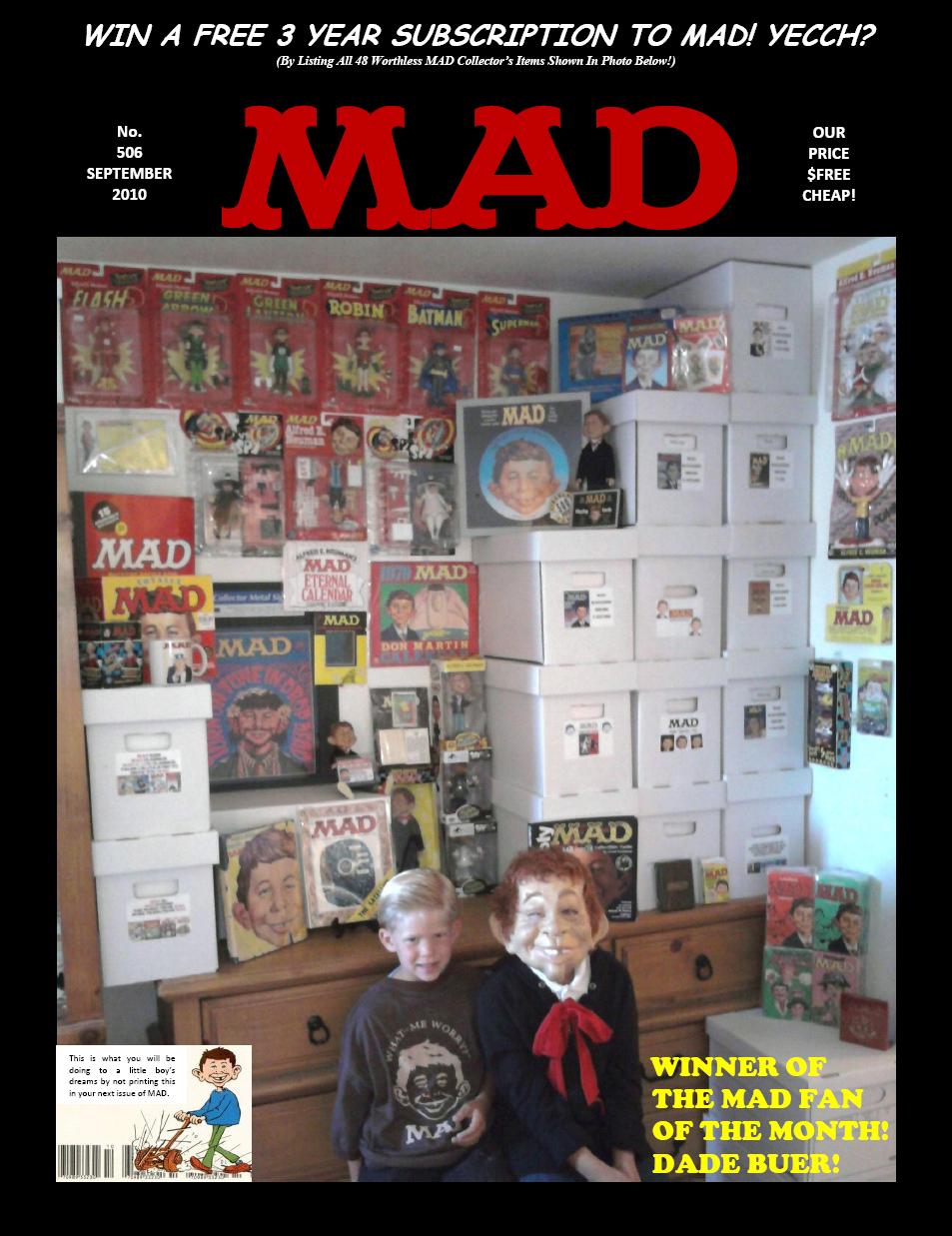 MADdest Paperback Collector
What have I been up to for the last 10 years you ask? Well, I have been painstakingly trying to collect every single printing of every single paperback book! Normal collector's usually stick to the basic 1st prints of each title. The next level of crazy collector mentality is to try and collect every single cover variation of each title, of which there are many due to William M. Gaines idea that if they changed the cover colors when they ran a new printing that some of the idiots who buy this crap would actually buy it again! Stupid huh! Well, no, not exactly because it worked. And it's still working today. I however am taking it a small step further and collecting every single printing. Which means thousands...don't believe me? Just check out the video below of my collection still in progress! I have also been building the Master List detailing all the information in addition to building a website dedicated to it and in the future my goals are to author a data picture book of my findings on the MAD Paperbacks.