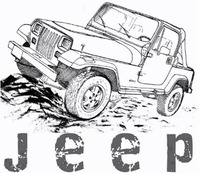 Our Bleeping Jeep Project
A Little History About Us...Blah, Blah, Blah...

My name is Jason, my wife's name is Laura. We have been married for about a year and half now and this project is to test our marriage vows and see if we can truly work together in harmony and make important decisions about stuff that really matters in life, like flames or scallops on the hood, 35" tires vs. 37's, to install grab bars or not to install grab bars to allow the kids entry into "our" toy!

Now, first off, we are NOT professional automotive restoration specialists like Danny from Count's Kustoms on the tv show Counting Cars. We are an average husband and wife who decided to get in over their head and restore a jeep!

Why you ask? It's simple, my wife has been ​​​​​​​yearning to build non other than a full blown muscle car! As do I, always have just never thought I could do it. My experience with a wrench is not a total ignorant past. I bought my first Volkswagen bug when I was 17 and kept it until I was 34 or so with several other VW's along the way. I had a few motorcycle sport bikes I tinkered with. And my first jeep was a 1992 Jeep Wrangler YJ 4 banger that has a 3" lift with 33" tires that I bought that way. I had it for about maybe 6 months when I was T-boned in a residential intersection by a full size GMC truck where his truck was buckled front and back he shot off fifteen to twenty feet in one direction and I move maybe three feet. My jeep was skin and bones(topless + no doors) and because the truck hit my tires it cracked my transfer case and bent my roll bar...to which the insurance company deemed not worth repairing and salvaged it. I took the money and bought another Jeep, although this time around a 1988 Jeep Cherokee 6 Cylinder 4 door manual and of course a 1994 Honda CBR 900RR because my insurance paid me more than I paid for the Jeep initially!!! Always secretly wishing I had another Jeep Wrangler.

Sorry about that, got carried away. I never believed that my limited VW wrenching experience was worthy of f​​ully restoring a true valuable muscle car, thus when my wife Laura kept bringing up how bad she wanted to do one I couldn't help but feel not qualified for the task. I had to sell my bug for moving money to move my kids from Idaho back to California after my divorce from my first wife. And I chose to sell my VW Double Cab for an engagement ring for my new wife Laura(best investment I ever made!), love you babe! So, I have been itching for and quietly dying inside to work on another car and was able to convince(strong arm persuade, underhandedly misguide her to believing a jeep was the best way to go) to start off small and work on a Jeep instead. She has never touched a car mechanically and I have been out of practice for quite some time now. She is still actively pursuing her continuing education with a degree in Micro-Biology, and a second(and maybe a third) in Physics and Chemistry with a Math Minor! My woman makes Sheldon from Big Bang Theory look like a 9th grader in beginners algebra. So she has a lot of book know how that she wants to see how it is applied on something real.

So we have embarked on this journey of a project together to practice and get better equipped in our mechanical comfort zone to tackle our next project which will be my wife's muscle car. The reason I pushed for a Jeep was because I knew I would have more confidence working on a familiar vehicle in addition to being responsible for helping Laura get familiarized with tools and car parts what trying to conceptualize a blank canvas into a Jeep that represents "Us"! We have a lot of great ideas that are going to be fun putting into reality​​ with our bare hands. So please keep an eye on us and watch out step by step progress which we will do our best to document here.

P.S. Guys...You have no idea how sexy your wife can look dressed in greasy garage clothes with her knuckles all dirty from removing the gas tank out of your Jeep instead of yelling at you from inside the house why your spending your time on that stupid "car". I love my dirty girl!​​