MAD Paperback Books "WANTED"
$ I Want to Buy YOUR Books! Below is a List of Books That I Want! $
Note: Beginning in 1954, William M. Gaines began presenting reprints of material for Mad in black-and-white paperbacks, the first being The Mad Reader. Gaines made a special effort to keep the entire line of paperbacks in print at all times, and the books were frequently reprinted in new editions with different covers variations. 93 MAD paperbacks were published from 1954 to 1993. In addition the contributors to MAD published specialty author specific paperbacks that exceeds in number to the MAD paperbacks, most with different cover variations making collecting ALL of the cover variations to ALL of the books a daunting task. What's even MORE daunting, is trying to collect every single printing! Which is the task I'm on now!
HOW DO YOU TAKE PART YOU ASK? SIMPLE...EMAIL ME A SCAN OF THE ACTUAL BOOK OR BOOKS YOU HAVE TO SELL ME!
#12 The MAD Frontier, Signet 1962: Alfred Sitting in a Rocking Chair.
Canadian & U.K. Printings: Canadian printings will have "Printed in Canada" on the title page. U.K. printings will have price tags of pounds or pence like 80p etc.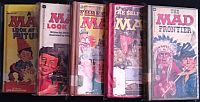 ANY HARDCOVER VERSION OF ANY PAPERBACK BOOK, MANY LIBRARIES CARRIED THESE VERSIONS.
Al Jaffee's MAD Book of Magic and Other Dirty Tricks: Warner, 2nd Printing.
MAD's Don Martin Steps Further Out: Warner, 11th Printing.
The Sixth MAD Spy Vs. Spy: Warner, 4th Printing, $3.95 Cover Price, ISBN 0-446-35803-7